News & Reviews
Topics
Catch up on our latest news, saddle customizations, rider reviews, and articles.
Classic Rider Reviews
Cassie H.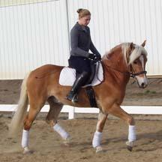 Hi,I just wanted to write a little note on how Ansur has changed my life and also my horse's life. I bought Mlark 2 years ago when he was had just turned 8 years old, a recently gelded boy and barely broke. The first 6 months of training were really good, although I hadn't really asked him to collect or use his back. He really was a good boy for the most part. Then the trouble began. As our work started to advance he would walk stiffly into the arena and jig non stop. He was constantly running off with me and it would take me several times around the ring to get him to stop. I was frustrated and in tears, he was worn down as well. Mlark has one of the best temperaments of any horse I have known. He is eager to please and really never does wrong on the ground. Finally at my wits end, I put him up for sale. Something inside me said that there is no way this horse can be so good on the ground and such a terror to ride. I had his teeth checked, a massage, and a vet exam. Everything came back perfect. So finally, I looked up back problems on the internet and found the Ansur. I got in touch with my rep and was able to ride in the Ansur for a full week. I was officially hooked! My wild guy became long and low, slow and relaxed! Jumping him was no longer a death wish for me. This horse became my dream horse. Before the Ansur, I couldn't ride a training level test, NOW he is schooling 2nd level movements just after 4 months of the Ansur. I can't thank you enough for creating this saddle. I know Mlark appreciates it as well!! I tell everyone that owns a Haflinger about the Ansur.
---
Back to top
Gay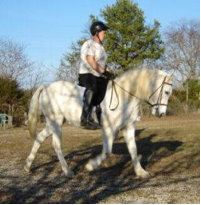 I am so happy with my new saddle and my horses are so relieved to have it. The demo saddle I tried was super but it didn' t have the support system I ordered. This system is wonderful. Anyway, thank you for my beautiful new saddle and the peace of mind it gives me about my horses. They are all Arabs and have big shoulders, very hard to fit and I spent a lot of time riding bareback rather than use a treed saddle. This is my little guy, Jameel, 13.3 hh. Notice how relaxed he is, his back is up and he is a happy camper traveling on very light contact. Life can't get much better than this. Thanks again."
---
Back to top
Laura P.
"I'd been aware of Ansur® saddles for some time, but hadn't made an effort to try one. I realized early on, as I was learning about them, that you really just have to put it on a horse and try it yourself. You can't compare it to anything else, whether it's riding bareback (which it isn't!!), riding in a synthetic saddle, or anything else. You just don't know what you're going to think about a saddle like this until you ride in it yourselfI finally got the push I needed to try one myself when I saw Carole, and the saddles at Equine Affaire. Carole was confident that once I tried it, I'd never want to give it up. Boy, was she right! I LOVE my Ansur. I didn't think it was possible to feel this comfortable and secure in a saddle. I also didn't think it was possible to feel so clearly what your horse is doing underneath you (not just the back muscles either, but the whole horse). It's easier to stay with greenies and anticipate any shenanigans; it's easier to keep yourself and schooled horses straight;it's easier to feel how nagging soundness problems are doing in old schoolmasters. Everything is easier. I've loved this saddle on every horse I've put it on. From now on, my Ansur® will always be my first choice. I really like how light weight this saddle is too, and the way it fits every horse. It intuitively makes sense that horses would prefer this, and they continually "tell" me in every way they can, that it's better. My advice to people curious about the Ansur: Try it! You have absolutely nothing to lose by trying it. You might just find "the answer" to problems and questions you didn't even know you had." – Laura P.
---
Back to top
Connie C. Ottawa, Ontario, Canada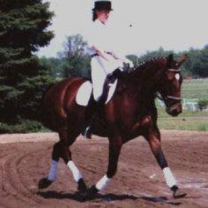 Hi "Ansur® makers",I received my Ansur® the 3rd week in February. I had gone through months (and thousands of dollars) in search of a saddle that would appease my horse. I had been riding for about 4 months bareback (quite happily), but needed something that I could show in! ... then I stumbled across some internet posts on "The Ansur", and checked out the website. Some of the people featured on this site "could have been me"!My horse, a Hungarian WB, can be rather hot and easily agitated. She used to start off with "little sewing machine steps" as we warmed up (in a "treed" saddle). In the Ansur, she is rather relaxed, and more supple/willing. We sometimes still have some "mare-moments", but, believe me... those moments have diminishes dramatically!!!I didn't think that it looked all that different from a regular treed saddle (except, maybe the pommel!). When I tried it out for the first time, on my way out to the arena, my fellow boarders were asking me why I was going to ride in my "saddle that didn't fit". They couldn't tell the difference! I had tons of fun bending it back & forth, demonstrating it's flexibility to curious people!I, as well, feel totally at home in the saddle. I've had two spinal surgeries, and have arthritis in my sacroiliac joints and lower back. It is much easier for me to feel my horse's movement under me - I'm not fighting to keep my legs back. I also love the fact that I can "rip-off" the thigh blocks/knee rolls, do some galloping and cross-country jumps if I feel like it - two saddles in one!I had my 1st Dressage show a few weeks ago - my first attempt at the Basic 4 / Medium 1 Levels (I guess that's 3rd level in the U.S.?) She was awesome! I've never had such relaxation in the ring! I scored a 64% in Basic 4, and 68% in Medium 1! I was so happy! You'd almost think that I have a fancy-schmancy dressage horse! :-)Many thanks for the wonderful concept and idea that fuelled the birth of this saddle!
---
Back to top
Martha M.

Just to let you know that the Divine Miss C (aka Candy) sighed deeply twice, blew her nose and went to work, including giving me ½ pass that she's never done before – twice – two days running. Mr. Evan got longed and ridden and under the Ansur, gave me his first ever shoulder in – piece of cake he said!!!So thank you everyone. This IS the saddle I've been searching for!!My western riding buddy Michelle tried it on her ¼ horse and loved it. Please! Find a way to make a western saddle she can show in. .My buddy with an SWB is expecting me shortly with my saddle for her to try. She's in the 'do I keep my saddle and sell the horse or keep the horse and sell the saddle' mode. I told her to hold the horse until I could come with this saddle. It may solve all her problems too!!So yup, you've got another convert! And I can't wait to start showing this summer. My horse's movements and attitude tell it all!! Thanks a million.
---
Back to top
Susan C.
"I can't say enough good stuff about the Ansur!!!!!! My mare had a sore back.... she was seeing the chiropractor every 2 weeks at $75 a visit....... and there was minimal improvement! Once I started using the Ansur® her muscles developed, she now has this gorgeous broad back firm with muscles and NO TENDERNESS!!!! she is excepting the bit , working under herself, developing a great trot! Kelsey is finally happy and COMFORTABLE in her work! thank you again! Kelsey thanks you too!
---
Back to top
Margie B.
"I have been riding in the Ansur® saddle since its conception, prototypes and all! I've ridden my four horses in it, and have observed many others. All are more relaxed, freer in their movement and generally happier horses! And there's nothing like it for being able to feel your horse's back. I tried a little experiment - put my old conventional tree saddle on my thoroughbred gelding. He pinned his ears, swished his tail, didn't want to canter (his favorite gait!). Switched back to the Ansur® and had my horse back! If he could write, he'd send you his own testimonial!"
---
Back to top
Amber J. Henneck - Executive Director Forward Stride Institute
"Forward Stride Institute, a therapeutic riding barn for people with disabilities, started collecting Ansur® Classic saddles beginning with the very first petite off of the line. Ansur® Saddle created the (youth size) just for us as a saddle to use with our 5 and 6 year olds and then they donated it to our organization. What a great group of people!Our equine chiropractor was very skeptical, at first, because the saddle lies on the horse's spine. After two years of use, however, he is a believer. Every day, our horses must accept riders who lean, twist, bump and grind as a consequence of their disabilities. Needless to say, this was putting a lot of strain on our horses' backs in the old saddles we had. The chiropractor was coming out at least once every three months to fix all ten of our horses and sometimes more often to fix individuals. Now, we rarely need more than a couple to be seen every three months and the ones he does see are usually 'out' because of old injuries, not saddle problems. Wow! We have probably saved thousands of dollars in the past two years in chiropractic alone. We have also found the Ansurs to be great for our riders. It allows them to find a natural balance, feel warmth emanating from the horse and the motion of the horse similarly to being in a surcingle and pad, with the advantage of being more secure. Last, but not least, let's talk about convenience. I cannot think of a better saddle for any riding school situation. Our Ansurs have been on everything from an 11 hand Shetland pony to a 16.1 hand, 1350 lb. Percheron. We have horses with narrow backs, very broad backs, withers and no withers, uphill and down conformation. It is so freeing to be able to match the saddle size to the rider and know it will fit the horse perfectly every time. We service 60+ riders per week on 10-12 horses. (80% of the rides are in an Ansur.) Normally this would require at least twenty treed saddles, but we do it with 10. (You add up the savings.)"
---
Back to top
Meg F.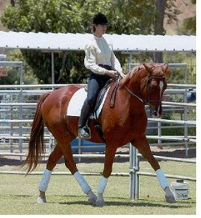 "I purchased my Ansur® saddle four months ago after my young Rhinelander refused to move another step in his old treed saddle. I could not believe the difference it made. I went from the horse who refused to move a step, to the horse that moves so huge I can barely sit his trot anymore! I believe this saddle is the best thing that has ever happened to a horse, and I now ride all the horses I train in it. It's fantastic!"
---
Back to top
Bev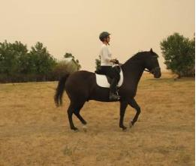 I am now experiencing that floaty trot that feels so incredibly awesome; we are practicing lengthening/shortening strides here - this is the horse I originally bought this saddle for - he got to a point in training where he refused to work in the fancy dressage saddle I had spent a ton of money/time on with fittings, refittings- and ended up with a very depressed and unco-operative horse, he is a really happy guy now and is changing daily, my coach gave up on him over a year ago - I let my coach go about 6mos ago and have been working mostly on my own - took a clinic about two months ago and was flattered with compliments at the progress we have made - both horses. I love you and your company Carol, read my thank you card again
---
Back to top
Marilee and Alev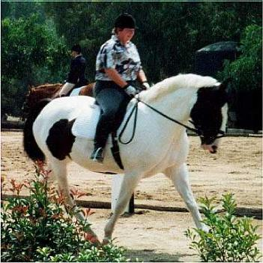 It isn't always easy to change one's thinking. I have ridden dressage for about 16 years and, let's face it, this is not an activity that encourages being different; it is about conformity. If you want to succeed, get a second mortgage on your house and buy a warmblood. And, of course, you want the best saddle you can afford, which in some cases can be outrageous. I first decided to buck the system when I thought about a future dressage horse and I opted to adopt a Premarin foal - a draft cross. Somehow, I ended up with two weanling fillies, Alev and Toby, both with distinctly different body types. On top of that, I already had a mature Appaloosa/Arabian cross, Apache who was yet another shape. Once the fillies were three and were ready to start work under saddle, I knew I was in trouble. I had a dressage saddle, a Collegiate Baron, that fit my Appy, and it was adequate for the fillies, but I knew they were going to grow out of it. I eventually bought another dressage saddle, a used Kieffer Lech Profi wide tree, to get me through yet another phase of their growth, but, again, I knew it would not last. When I began adding up the cost of getting custom made saddles to fit these growing wide-bodies, I started to despair. Then I remembered seeing an Ansur® Saddle booth at a California Dressage Society Symposium. At the time I saw the Ansur, it was very new and very different; I just gave it a brief look and passed by. Now that I was actually faced with fitting three horses, I decided to look seriously into it. I checked out the website and read the testimonials. I was particularly impressed by what J. Ashton Moore had to say. When I contacted Meg Francouer, she happily came out and spent the better part of a day letting me ride in an Ansur® on all three of my horses. She was very friendly and patient, and answered all of my questions. A very fun day, indeed. All of my horses seemed so happy in the saddle; they were more relaxed and more supple, particularly my Appy who seemed to respond to the both Ansur's increased stability and flexibility. I also loved the fact that you could feel every movement of the horse's back and a "large and lovely" like me could sit the trot so comfortably without disturbing the horse. An added bonus was the lightness of the saddle when compared to a standard dressage saddle. The last thing I wanted to do was add more weight to my horses, and this was a great solution. My Christmas present to myself in 2001 was an Ansur® Chic. A great investment when you consider it can fit any horse. I no longer worry about hurting my horses' backs with a stiff, pinching tree. Attached is a picture of one of my draft crosses, Alev, now five years old, and myself at a recent schooling show (hence the Hawaiian shirt). I have ridden Alev at both rated and schooling shows, and she has achieved scores up into 70's. Not bad for a rescue horse! And I have to attribute a big part of that success to the Ansur. I have been using the saddle for about nine months now and I think it was one of the best things I have done for my horses. Meg was also great about following up on my "happiness factor" following the arrival of my saddle, and I could not say enough nice things about it. All of my horses are happy, comfortable, and their mom has a saddle that fits her, too! Thanks, Ansur. Marilee R.
---
Back to top
Laurentino and Cynthia schooling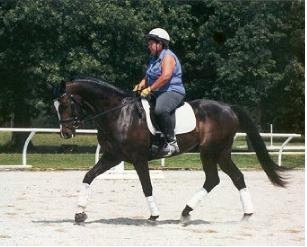 I purchased one of your saddles about a year and a half ago. After riding many horses in the Ansur, as well as having many of my students ride in them, I have noticed that every single time I add this saddle into the equation the result is one or all of the following:The horses relax their backs almost immediately. The riders have to fix any crookedness in their position, and can, due to the fact that the saddle will let them know if they are hanging on, leaning, or riding crooked in any way. The horses become more rhythmic and calm. The riders can sit the horses better due to the absence of the rebound effect that a saddle with a rigid tree gives. (Many of them were shocked to find themselves jumping around in the saddle when they first sat the trot in the Ansur®...they were expecting all the extraneous movement that they were dealing with before...and on big warmbloods, you just don't need extra movement to sit!)The riders do not get tossed around on a fractious horse, due to the fact that the horse does not have a rigid tree to act like a paddle to launch the rider off of his back. (All the horses so far have quit being fractious, but there is the occasional horse fly!) (This was one worry that I had in the beginning - would my students be able to ride this saddle if something violent occurred...but they can ride better in the Ansur®!)The horses seem to be able to bend better in the body, especially in all of the into the bend movements like haunches in, halfpass and pirouette. (I suppose the ease with which they are progressing is due to the fact that the saddle is not restricting them... But I would love to take the credit!)The horses are not resenting being saddled up. (The new ones we started never even showed a tad of discomfort, even on the first ride! And the old guys that came from other places gave up the biting and growling habits they had upon saddling.)The riders are being able to keep quiet seats and legs, and as a result the horses are more light to the aids. (The riders just plain give up all the old bad habits and just sit there quietly on this saddle...the horses love it!)The riders are finding the true rhythm and movement of the horses. We are all wondering why everyone is not riding in this saddle!- Cynthiap.s. I didn't tell you, but I have 7 inch Titanium rods in my back making all movement in my lower back impossible. The Ansur® has enabled me to ride without pain for the first time in ten years. I ride a Holsteiner stallion with a ton of movement, and constantly get comments about his supple back and my supple seat.
---
Back to top
Sian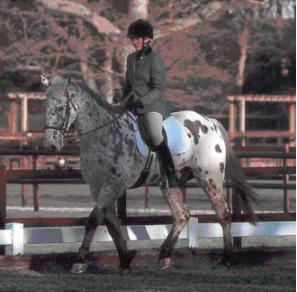 Hi there,I've had my classic saddle for 5 months now and the progress I've made with my 24-year old Appaloosa is just unbelievable - it has really given him a new lease of life. Where before I would spend 45 minutes schooling and begin to see results in the last ten minutes, I now have my horse working in a round outline from the moment I sit on him. This has allowed us to benefit from all the time we're dedicating to our work, rather than just 25% or so of it. At times I've thought my horse's days were numbered, and now (though I'm not sure my Ansur® is entirely the cause of this!), we are competing in dressage and doing some local jumping classes. You'll see from the photo just how well Fred is looking. You'll be interested to know that we now have 5 Ansurs on our yard with another due to arrive in the next week or so. My vet has also commented on how improved my horse looks and I have forwarded your website info to him as he feels other clients may be interested. Many thanks.
---
Back to top
Karen Rohlf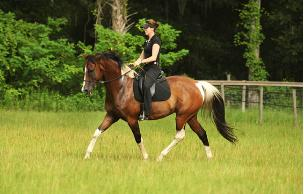 I have been riding in the Ansur® Classic since 2004. I never thought I would, as I am very particular about biomechanics and the Ansur® seems to break many of the standard saddle fitting 'rules'. But as I have learned, many normal methods of doing things have room for re-examination! I became addicted to a feeling of closeness on my horse after remembering how to ride bareback. After that, I found it frustrating to put regular treed saddles between my horse and me. I became acutely aware of their feelings of restriction. I also became frustrated with a treed saddle not being able to adapt to the ever-changing posture and muscle development in my horses. At the same time, I knew that my horses needed more protection from my boney seat bones while riding bareback. The Ansur® seems to be the perfect solution. I have enough protection for my horses, yet still feel like I am riding a horse, not a saddle. I can literally feel the muscles of my horse warm and engage through the Ansur. Recently I again, tried many treed dressage saddles with custom fittings from experts, thinking I 'should' have one. But it became very clear how much extra movement those saddles add to the system. I didn't like that I felt the horse less, and some artificial sensations from the saddle more. My horses also complained. I love that it can go on any horse and with just a little thought of what kind of pad to use, there is almost no way it can't fit! I have a grey horse that is so sensitive, he will get a rub from a fly mask, (or seemingly anything that touches him twice in the same place) and he has never gotten a rub from the Ansur® Classic, even on his withers. Like many first time Ansur® users, I couldn't believe it was allowed to sit on the withers, but my horses never complained, so I stopped worrying! I also get a dry line down the spine, which lets me know that they are not getting too much pressure there. The bottom line is the 'weird looking saddle' that I thought would sit in the back of my tack room is the only one I use now! I do believe that no one piece of equipment can be the perfect solution for every horse and rider at all times, but I do know that my horses and I sure are happy with it!
---
Back to top
Petra, B.C., Canada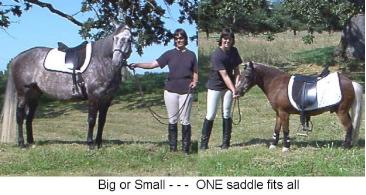 Thanks again to everybody who gave me their opinion on the Ansur® I bought one and received it last week, and I was happy from day one. The quality is absolutely wonderful, totally even stitching, superb leather, all together better than a lot of famous brand names. *Now I would like you to know, how it has helped my horse: He does not move away anymore, when I come with the saddle, figure why. He moves with a lot more freedom in his shoulder. His back is nice and loose, just swinging. He is not trying to come behind the bit anymore, like he used to. I think, since nothing pinches anymore, he does not have to brace against anything. He is getting the correct canter lead (which he had trouble on) now every single time. Now why do I love the saddle? Naturally, because my horse loves it. It lets me sit in the correct position without me fighting for it, like in my old saddle. (*Mind you, I have to do some stretches before I get on, my horse is 18 hands and pretty solid build). Very comfortable on my butt. I can sit the trot and canter way better and deeper. I suspect it is because his back muscles (in canter) don't need to push up against the saddle, that way pushing me up, they just gently lift the saddle. The saddle is very easy to lift on a big horse, because it does not weigh a lot. And one more, very important thing, it does not allow me, to collapse in a hip, sit crooked or what not. I notice my mistake right away and because of it, I can fix it very quick. And there are a lot more things I like about this saddle, but it's time to go and feed my guys.
---
Back to top
Lucy F.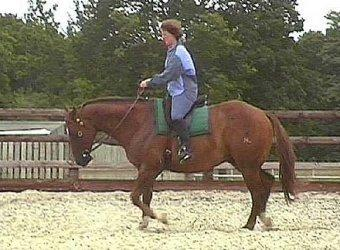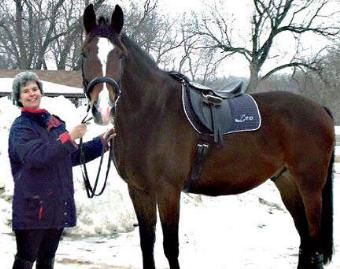 "Months! I spent months searching for a dressage saddle to fit my wide-shouldered, narrow-bodied saddlebred. When I finally tried the Ansur® saddle, he loved it. His trot was bigger; his shoulder was looser; his back was no longer sore. Success! When I bought my new horse, a 17 hand Dutch thoroughbred cross, the same saddle fit, and he also loved it with the same results. I never imagined the same saddle could fit two such different horses and with improvement in both of their gaits and comfort."
---
Back to top
Ansur saddles built on FlexCore:

the comfort of a treeless saddle with all the rider support of a tree