News & Reviews
Topics
Catch up on our latest news, saddle customizations, rider reviews, and articles.
Endeavor Rider Reviews
A. Burke
I am a natural hoof trimmer and endurance rider. Laura Axelsen helped me purchase the Excel a couple of years ago, and it was the best purchase I ever made. This is DE Amurra, she came into my life after her previous owner kept getting bucked off on the down-hill. She had many issues, and a chiropractor diagnosed her with severe tissue damage in her shoulder. She had suggested [Brand Omitted] saddles, but she was still too sensitive there. 20+ some saddle later, I met Laura Axelsen of Barefoot Acres, and she introduced me to the Ansur! FINALLY, Amurra moved out, extended her shoulder, and needless to say.....we are competing, SOUNDLY, in 50 mile endurance rides. Her heart rate coming into the vet checks is 44! So, she is pain free, and happy. The saddle was quite an investment for me, at that time, but 2,000+ miles after I purchased it, it still looks new. The quality is amazing, and I can use it on all my horses. This saddle will be with me forever! Thanks, Ansur Saddles for having the answer to my mare's comfort and soundness! A. Burke, Performance Natural Hoof Trimming & Endurance Coach
---
Back to top
Eliza W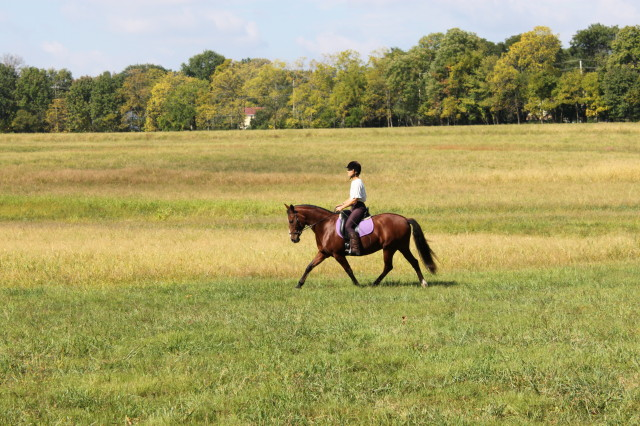 I have been a happy Classic owner for 10 years. I am committed to the treeless concept. More recently, as I have gotten older, my hips have told me I needed to sit a bit off my horse's back. I had not thought of a real dressage saddle as I ride shorter than a regular dressage length and have always hated knee rolls. I ride in unconventional places with unconventional tack. I had an opportunity to demo ride an Endeavor and surprise - I loved it. It gives me great security and is easier on my hips. It is particularly good with my big warm blood who is rather unpredictable. As you can see, my lovely Half Andalusian mare likes it, too.
---
Back to top
Alicia K.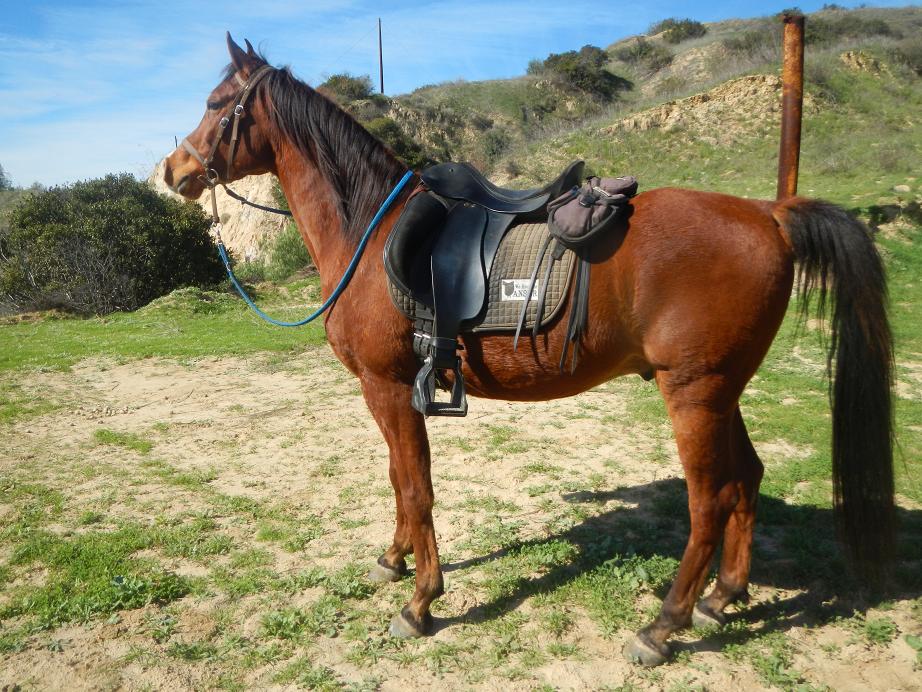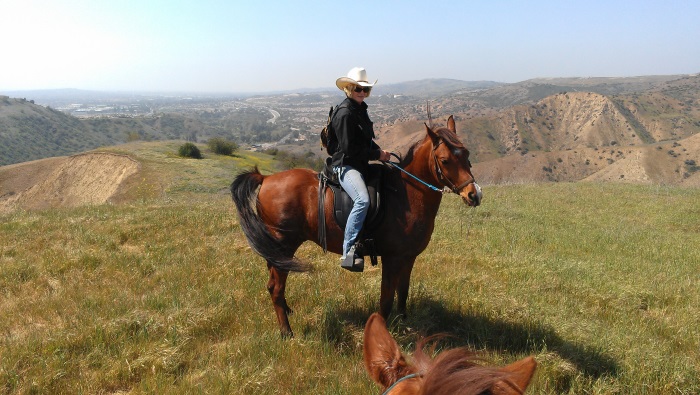 Carole, It was great talking with you this evening. I'm so excited about ordering my new western saddle from you and can't wait to get it. I just love the Endeavor and so do my horses that I purchased from you 2 years ago in Scottsdale. NO SORE BACKS OR SHOULDERS on my horses. Just free moving shoulders and backs. I'm sending you a few pictures of my pure bred Arab WS Sztyle with the Endeavor saddle. We have logged nearly 1000 hrs in this saddle.
---
Back to top
Mary K.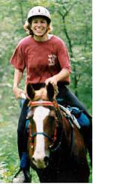 Hi, I'm Mary from Richmond, Virginia, an avid endurance rider and foxhunter. Charlotte had given me & my Arab/QH cross Shiloh several much needed dressage lessons and let me borrow her Ansur when it became apparent my Sharon Saare "F" wide tree was interfering with Shiloh's range of shoulder movement. WOW - I didn't know whether to laugh or cry as I felt the wonderful difference in how my horse coasted around the ring...ears forward, w/light springy strides and no resistance even when picking up his problematic right lead. To summarize: the Ansur was worth every penny because the quality workmanship means it will last forever and I now need only 1 saddle instead of 2 -- it's elegant enough for foxhunting, light and secure enough for demanding trail riding -- and the very best saddle for working on those fundamentals (dressage/ring work). The photo is from the Summer Breeze endurance ride in Salt Lick, Kentucky went GREAT except it was very hot. Shiloh came in 8th place in the 50 (5 hrs and 7 minutes), only about 15 minutes behind the winning time. The Ansur did fantastic and having less weight to carry (it weighs almost 10 pounds less than my treed saddle) helped my horse out a lot. This photo is at 15 miles out, about 7am." Mary K and Shiloh
---
Back to top
Peter R.
We have a shire cross gelding for sale who, at this time last year, was exhibiting quite a behavior change! He had been started in dressage a few months earlier and instead of progressing, he was regressing every week he was taken for a lesson....things like chomping the bit, head tossing, becoming hollow not round and forward and his attitude was becoming such that he could no longer be approached with a saddle without flinching and once even rearing when cinched! We at that time had NO clue why he was behaving so poorly all of the sudden, when someone suggested he might have saddle soreness......duh......but we had a "good brand name saddle!" we decided to investigate this anyhow and discovered the Ansur saddle and it's theory. When the Ansur rep came to our farm to try this new saddle and its idea behind it....the horse's attitude and crappy way of moving just disappeared! Consequently, 3 Ansurs later (one for me and each of my daughters) and one year later, the horse has developed into a beautiful freely moving and talented individual with a great attitude! Reluctantly we have him for sale now because his rider has switched to primarily dressage and this horse loves to jump as well and his calling is eventing...so people came to see him last week and rode him in our treeless equipment first to be fair to him by trying him in what he is accustomed to .... then wanted to switch tack to their 3K custom saddle just to see if there was a difference (as I believe they were skeptical as to the no wood concept)...even we didn't know how he would react to the difference if he would at all...... Needless to say, the old past behavior and poor way of movement returned INSTANTLY!....The buyer and her daughter were mortified, and decided to take it off as we didn't want to keep hurting him. The potential buyer said she was amazed and was going to get an Ansur whether or not she bought our horse.
---
Back to top
Sheila T.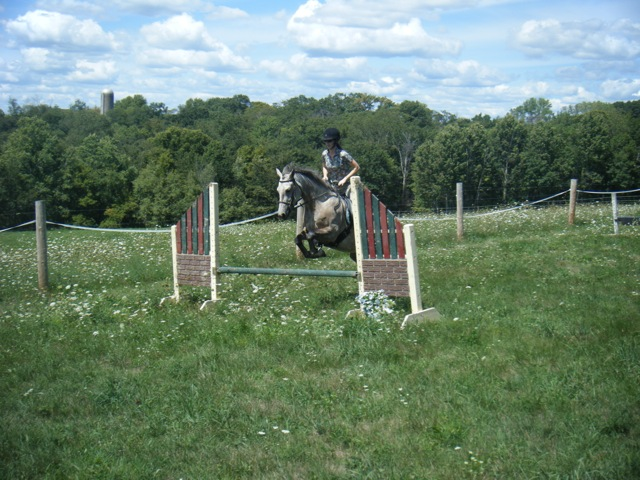 Dear Carole and Don--Well Carole I did doubt you at the Midwest Horse Fair, but I'm a believer now! I got the saddle and it's beautiful! But more than that it fits my two hard-to-fit horses and they move beautifully in it. Now I wasn't sure if I was imagining it so my friend/trainer rode in it and she too thought that my Connemara went better than ever in it. So thank you a bunch! This picture is of Jenny and Darby jumping in my Ansur! --later-- You were right again! I rode Gracie for 4 hours on rough trails at a local state park yesterday. she is a hard to fit fox trotter, built like a quarter horse, with broad shoulders, and as you know to gait correctly she needs to move her shoulders freely. she is also built downhill, so traditional saddles pinch her neck as she goes, though she has never complained, and loves to go. anyway, 4 hours later, taking the Ansur saddle off, she had a perfect sweat outline, with no dry spots! let me say it again, no dry spots! in the 10 years I've had her, and after the 5 different saddles I've had for her, this has never happened. once again, you made a believer out of me! Thanks,
---
Back to top
K. Wade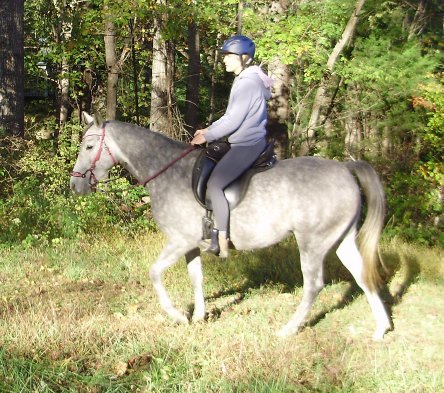 I completed the OD 50 in the saddle (Ansur® Endeavor) I borrowed from Mary Howell, and she's been kind enough to allow me to keep it until mine arrives -- I gave her a "thank you" gift, but I hope she also gets a commission! Besides my endurance horse, I've also used the Ansur® on several other horses, including one as round as a beach ball, and it's worked great on all of them. I've also found that the nagging pain in my right hip that's been bothering me for the past couple of years has been gradually going away since I've been riding exclusively in Mary's saddle, so it's good for the rider as well as the horse! Can't wait to get my very own! K. Wade
---
Back to top
Ansur saddles built on FlexCore:

the comfort of a treeless saddle with all the rider support of a tree