News & Reviews
Topics
Catch up on our latest news, saddle customizations, rider reviews, and articles.
Westernaire Rider Reviews
Gwen D.
Hi Carole. Here are some new shots of me and Buddy. Hope you like them! He's muscled up well since last summer when we got our new saddle. I love it and so does he.
---
Back to top
Linn M.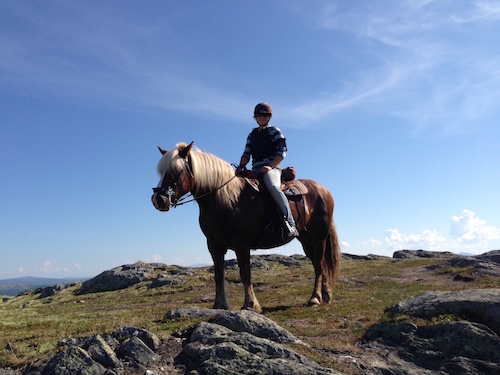 Hi Carole. I just wanted to send you a picture of Linnea and me on our amazing mountain-hike this weekend. We really had a good time and I am very impressed with the saddle! 5-6 hours in the saddle and no stiffness the next day! Linnea also seemed more energetic than the other horses (with their treed saddles and metal shoes) that are used to going in the mountains. Best regards. Linn M. & Linnea
---
Back to top
Craig L.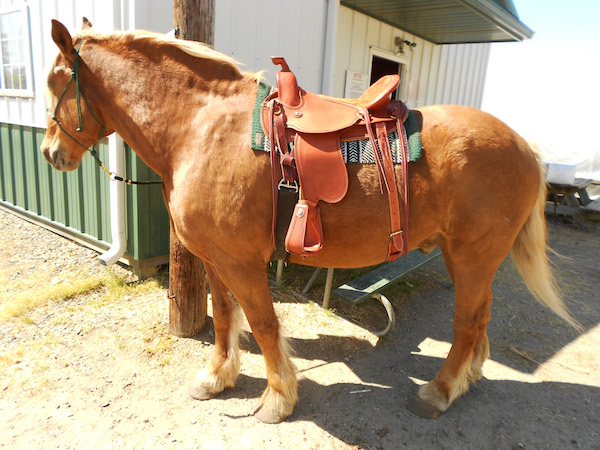 Carole & Don. First off, I'm speechless. I received the saddle last week, but didn't get to take a good look at it until I tried it this weekend. I really can't express how incredible my saddle looks, but also how comfortable it is. Working with you guys was a great experience and the work Joe had done is beyond words. Joe is truly a gifted craftsman and artist. Everyone at the barn noticed the saddle immediately. Not simply because it was new, or because it's one of only a handful of westerns, but because it stands out as unique. When I went to get on for the first time, I was pleasantly surprised that the stirrups were adjusted per our measurement session and I didn't need to change anything. My horse, Trigger, is an 18 hand Belgian draft who hasn't been ridden since the fall and is still more or less a green horse at 10 years old. Usually when I get on him he tries to trot off for few yards, but then quickly settles, this Saturday was a bit different. About 2 seconds after getting on him he went on a bucking spree. I stayed glued to that saddle and he settled down pretty quick. He tried to buck me a couple more times, but still I was stuck like glue to him. Thank you for the suede seat and the backing which helped keep me in place. Now for the good news! I noticed, for as out of work as he was, he was much more responsive to me. Our turns were much quicker and I felt much more connected to him. Overall our first ride was fantastic and the saddle looks great on him!. Thanks Again. Craig L.
---
Back to top
Val & Golani
I am an experienced amateur rider and have ridden all my life. I have show jumped, evented, done dressage, as well as competing western, but although we have German horses as well, my own personal horses have been quarter horses for the last 25 years. My latest horse is a beautiful mare with the sweetest nature and paces to die for, western paces that is. When I started to train her, however, she proved to be extremely sensitive and I really struggled to find a saddle she was comfortable in, English or western and at this point I discovered Ansur treeless saddles. For me, this involved an unridable horse, purchased for a nominal sum, becoming a winning dressage horse.......but I digress, that has nothing to do with the Westernaire!! I bought a Chic and a KK, which worked wonderfully well, but that still left a western problem. On the recommendation of a respectable trainer, I bought a Bob Marshall, as it seemed to be the best option, available at the time. The BM worked for a while but I found that I was becoming increasingly concerned about pressure areas and as my mare developed, the wooden pommel proved to be too narrow across her withers. I dismantled the pommel and replaced it with a flexible one, which worked for the fitting problem, but did not solve the pressure fears and I found the overall picture left something to be desired. With no other alternative I reverted to a treed western saddle and for the next few weeks, I wondered what I had been worrying about. The saddle I was using was my show saddle, so one seriously rainy day, I felt obliged to use the Bob Marshall. I then rediscovered the free moving stride and smooth, effortless lope, I had forgotten existed and my dilemma returned. It was about this time that I first saw the Westernaire on the Ansur website. I could find very little independent information about the saddle, so with my knowledge of the quality of their English saddles and pure desperation, I ordered one. I guess I was one of the first customers. My first saddle arrived at the end of May and I attended several clinics and showed in it all season. 2008 was my mares first show season, under saddle, and we had a fantastic time. With a home trained horse and a treeless saddle we managed two amateur hi-point trophies and countless rosettes. I spent the entire season thinking about what I would have on a fancy show number. I ordered my show saddle at the end of that year. I visited the Ansur factory and met the team. What a happy and relaxed atmosphere. I had a guided tour....it was a bit like being in a candy store. Carole and I sat and talked through my saddle order for my "once in a lifetime dream saddle". I do not recall Carole saying "no" to any of my requests. The resulting saddle is truly gorgeous, both to look at and to ride in. An absolute masterpiece. This was only possible because I was totally confident that it would also be acceptable to my equine friend and it would never have to appear in a sales ad with "no longer fits my horse".!!!. As an added bonus, I had retired my previous western horse as she kept being unsound, but this was pre treeless saddles. In my Westernaire she has remained as sound as a bell and has a new lease of life at the age of 18. Thank you Carole. Thank you AnsurRegards, Val & Golani
---
Back to top
Jamie O.
In all honesty, I was a bit skeptical about this saddle. I was also a bit worried about having spent so much money. Having Mike Bray comment about the craftsmanship and quality was a major boost for me. But now, even after having taken only a couple of rides, I can make a better initial assessment that I'm sure will grow and expand over time. First, I rode the saddle on Jack. Jack is a client horse. Jack has major issues. Initially, both his owner and I thought the issues were behavioral. It then became apparent to me (after working with him for a relatively small amount of time) that there was something physical going on with him. I decided this because, although he was showing remarkable improvement on the ground, under saddle he was getting worse - intense tail swishing (even when mounting or at the walk), bucking, you name it. The bucking would always intensify with my request to move to the canter. Jill, the owner, prior to hiring me for her trainer, had spent many thousands of dollars establishing his soundness. At my recommendation, she took him for further testing to the U of M. The U vets felt that at some point in his life he'd received an injury to his withers. I rode him this past Sunday in my Ansur. Folks, he was a perfect angel. Not a single tail swish. Not one offer of aggressive communication. Second, on my Alley, the saddle is a dream. No more creeping up her neck. I've ridden her quite a few times in it. Yesterday, she did finally offer some rather animated movements (she's "in season" so she's more than a little crabby lately) and I felt nothing but totally secure and comfortable in my new saddle. What a blessing. Last, I took Ace to the state park just down the road from our home. We rode maybe 5 miles. The saddle became noticeably more comfortable as we walked along. But alas, my Ace - my solid, dignified rock - forgot that he'd been to the park hundreds of times before. And, as we once again familiarized ourselves with the malicious tree stumps and horse-eating gullies, also spent a great deal of time jumping sideways, stopping dead for no apparent reason, etc. Beautifully snug as a bug I was in that saddle. Even now, at less than the 50 miles you said it would take before it felt really terrific, I am beyond happy. I LOVE LOVE LOVE this saddle. I would not trade it for the world and will recommend it to anyone and everyone I know. Thank you everyone! Jamie O.
---
Back to top
Nancy K.
Carole, All I can say is OMG, OMG, OMG it's gorgeous….. I can't wait to get home to put in on my horse!!!!!!! Loved the balloons….LOL too CUTE! Carole honestly please let everyone there that worked on my saddle know how much I LOVE this saddle…. It is amazingly beautiful… I cannot wait to ride in it… Thank you for a beautiful AMERICAN made product… Thank you over and over and over again!!!!!! Nancy K.
---
Back to top
Westernaire Customer
Hi Carole, I wanted to share my experience with my new Westernaire Ansur saddle. Last fall I knew my 6 year old ½ Friesian colt was outgrowing my saddle but I postponed the decision on a new saddle to this past spring of 2015 after our Montana winter off. Little did I know that this was going to open a big can of worms and take months of looking which I wasn't prepared to do. I just wanted to ride! My horse was not having an immediate problem with a sore back or acting up so I had no idea that his saddle was an issue last year. It wasn't until last fall a friend of mine was trying to fit her wide shouldered, short back Lipizzan mare she had just bought that I was becoming aware of the problem of fitting a saddle to a horse. Of course I realized that he needed a new saddle. As it turned out his shoulders were not fitting any pommels out there on treed and treeless saddles. (Yes, I discovered that there are treeless saddles out there with ridged pommels and ridged cantles!) I tried a number of treed saddles and treeless saddles my friends had handy. That led me to have various saddle companies send me several more treeless demo saddles to try out. Nothing was working either for him or for me. With all my research I was convinced that a treeless saddle was the way to go for any horse's comfort but all the treeless saddles I tried were extremely uncomfortable for me. This may not be the case for other people but my horse is very wide and using treeless saddles compounded this problem and I felt like I was doing the splits. I then found out what people meant by having a twist as being important to the rider. Try finding a treeless saddle with any kind of a twist for the rider. They don't go hand in hand. The Ansur saddle kept coming up as an option but I had no one close to me that I could demo their saddle plus the cost of the saddle was too much for me. My mind frame was to try one out so I could also eliminate that one from my list! Coincidently when I scheduled my vacation at the end of March I found out that I was going to be driving right by the Ansur factory! I tried 3 saddles at Ansur, the Excel, the Enduro and the Westernaire. My background has been dressage and I fell in love with the Excel of course but I wanted a more secure saddle for trail riding my young boy. My vacation timing was perfect that I was able to try them out before they left for back east for a couple of Equine Expos with Carole. I kept telling myself that the Ansur saddles were too expensive to buy but couldn't get them out of my mind. After my vacation I called to see if that black Westernaire was for sale and it was. It first needed to be displayed in the Equine Expos back East before they would send it my way. I have had the saddle for a couple of weeks (It sure beats riding bareback) and have fallen in love with it. Every time I ride, I love it more. The saddle fits me perfectly and is very comfortable to be in as it does have a twist for me and of course it fits my horse and he loves it and he has changed. He has beautiful Friesian movements out in the pasture and is wonderful to watch. When I worked him in the arena he lost that movement and I never could understand why. I just accepted it. After riding him in my new Ansur saddle the first thing I noticed was the big swinging movement from side to side through his rib cage area he never offered before. I was thinking that I was 'trying to see something different' so I could justify my expensive saddle. This feeling continued in my 2nd, 3rd and still happens today while I am riding him. There is an amazing transformation in his movements that has come over him. I never knew how much my treed saddle was bothering him before. He didn't complain and is very good about doing his best for me. I am sold on the Ansur saddle design both for the comfort of the horse and for the rider. It was worth the money. If you ever get a chance to try one out you too will be sold. Carole and Don were very helpful through the entire process of my purchase. Thank you Don and Carole.
---
Back to top
Linn M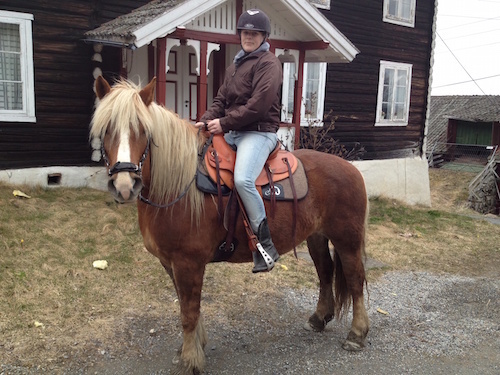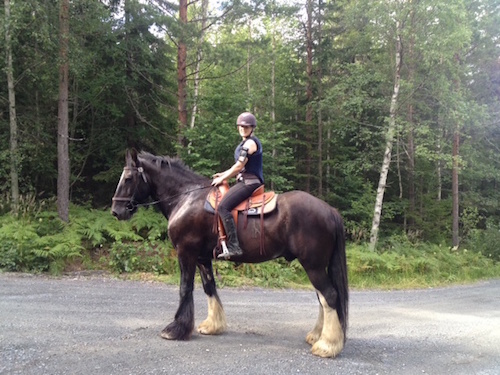 In 2006 I bought my first Ansur. I was confused in a world of saddles where I could not find one for my 4 year old, high withered TB, Fighter. I found a "treeless saddles" group on yahoo where I asked if anyone had a recommendation for a treeless saddle that might work for us. The Norwegian distributor for Ansur Saddlery answered, offering me a trial on an Ansur Classic with one of her horses that had pretty much the same build as Fighter. I was totally convinced, ordered the saddle straight away and waited patiently for my problem solver saddle to arrive. I was very happy to see that Fighter did not get sore after our rides as he had been from other saddles he had tried. The years went by and the Classic was our best friend. It also turned out to be a really good saddle for breaking in Linnea, my younger Irish Cob/Norwegian Døle mix. She is barrel-round with no wither, so she is very different from Fighter. When the Westernaire came on the market, I really wanted to have on of those too. In January 2012 the beauty arrived! I was thrilled to see that this saddle also worked well for both of my completely different horses. And what a great feel to ride around the forest in such a comfy western saddle!The year 2012 came with a new horse for my husband, a 180cm tall shire horse named Fiery Fleetwood (called "Lillegutt" which is Norwegian for "Little boy"…). And every man with a new found interest of riding dreams of being a Cowboy, isn't that right? The Westernaire became their saddle and my desire for an Excel accelerated. I sold my best friend for the last 6 years, the Classic, and bought an Excel. I was afraid I would miss the Classic, as I had gotten so used to it and had such a good experience with it for all 3 of my horses. No need to worry though, a few rides in the Excel and I began to wonder why I did not have this saddle during the protest-period Linnea had put me through. The Excel offers a lot of support both in the seat and knees. This is truly a proper dressage saddle, yet treeless and pain free! And as I expected, it works really well all 3 of our very different horses!I am so happy that I took the chance of ordering the Classic after only having tried it on another horse for one ride. It has opened a new world of saddles for me and made me confident to buy both the Westernaire and the Excel without even having seen them in real life. I just knew they would be great, pain free saddles!Best Regards,

---
Back to top
Ansur saddles built on FlexCore:

the comfort of a treeless saddle with all the rider support of a tree